ICAS competitions are designed to recognise academic excellence. Students are assessed on their ability to apply classroom learning to new contexts using higher-order thinking and problem solving skills.
Results have been published for the 2020 ICAS Competitions in Science and English and once again our year 3-6 students have achieved some amazing results. Varsity average scores surpassed Australian averages in all year levels for Science and all but one year level in English. These are outstanding results.
Congratulations to all students who participated in these challenging competitions. Certificates recognise levels of Participation, Merit, Credit, Distinction and High Distinction. Listed below are students who attained a level of Credit and above. Parents are welcome to view all results and details available on the University of New South Wales website: https://www.unswglobal.unsw.edu.au/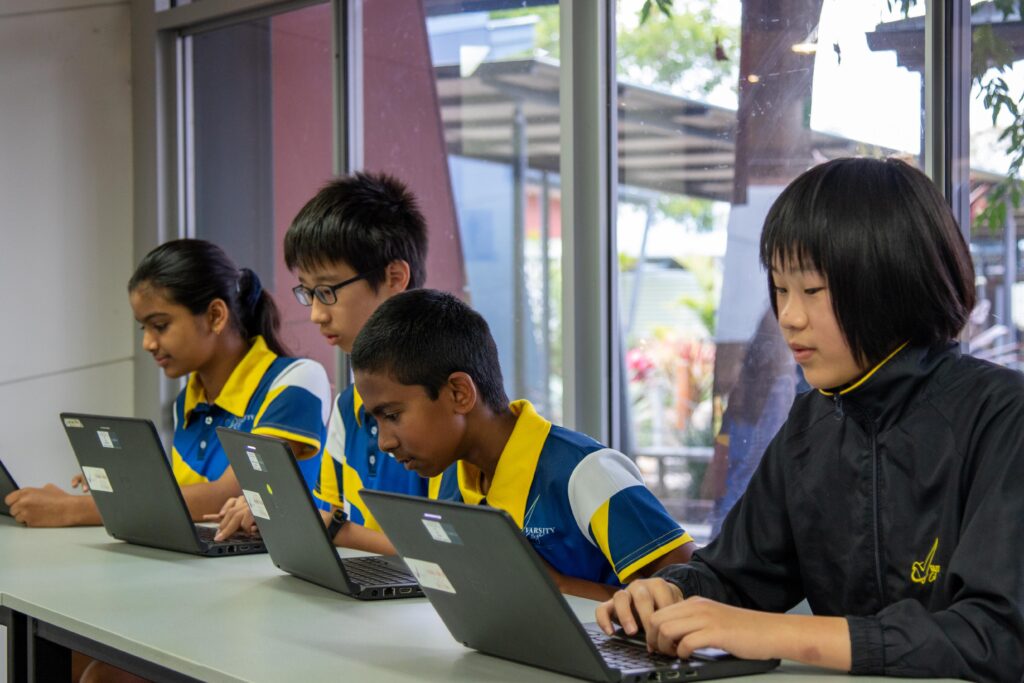 *Special mention goes to year 5 student Joseph Zhu. Joseph sat the year 5 Maths ICAS competition and scored 40/40. He also sat the year 8 Maths ICAS competition and achieved yet another breathtakingly perfect 40/40. This includes correctly answering a question that only 4% of year 8 students were able to correctly answer. Such a result is unheard of in over three decades of ICAS competitions.
SCIENCE
Year 3
Credit: Vian Cai, Oliver Hart, Esandu Hetti Kananange, Yue Han Huang, Oscar Liu, Ethan McDonnell, Ali Tawfik, Zhiyuan Yang
Distinction: Misha Zubko
Year 4
Credit: James Beebe, Aabir Chowdhury, Janu Freysen, Khadija Khan
Distinction: Aichen He, Amali Humphrey, Evangeline Mackenzie
Year 5
Credit: Bernadette Khoo, Ian Kim, Atharva Nalawadi, Lara Purvis
Distinction: Saskia Knevitt
Year 6
Credit: Wai Qi Cheong, Marley Horswood, Tahani Sarwar, Micah Tatlow, Isaac Wang Distinction: Venice Cai, Pumindu Hetti Kankanange, Denzel Koo Sin Lin, Mikayla Webb, Tony Xia
High Distinction: Tobias Humphrey
ENGLISH
Year 3
Credit: Xavier Bayrante, Esandu Hetti Kananange, Freya Mistry,
Distinction: Zhiyuan Yang, Oscar Liu
Year 4
Credit: James Beebe, Elyana Belous, Janu Freysen, Amali Humphrey, Evangeline Mackenzie
Distinction: Aabir Chowdhury, Aichen He, Pui Chung
Year 5
Credit: Amelia Brown, Macy Cross, Summer Fonseca, Mhylee Galvin, Elke Graham, Maurice Janz, Bernadette Khoo, Sofia Lin, Imogen McCarthy, Ian Kim, Atharva Nalawadi, Kirra Tran, Lewis Williams
Distinction: Ella Purvis, Lara Purvis, Saskia Knevitt, Taleen Abu Arqoub, Elijah Mitimeti, Amelia Witkowski
Year 6
Credit: Venice Cai, William Clark, Emily Clish, Pumindu Hetti Kankanange, Tobias Humphrey, Jackson Kelly, Ethan Park, Micah Tatlow, Isaac Wang, Mikayla Webb, Aiden Yi, Liam Ximenes Sweet
Distinction: Tiago Rangel, Honora Rowen Clarke, Zoey Teng, Tony Xia
High Distinction: Mikayla Ngo
MATHEMATICS
Year 3
Credit: Vian Cai, Blake Ireland, Sara Knevitt, Ethan McDonnell, Ali Tawfik,
Distinction: Esandu Hetti Kankanange, Oscar Liu, Zhiyuan Yang, Misha Zubko
High Distinction: Yue Han Huang,
Year 4
Credit: James Beebe, Charli Bradley, Pui Chung, Amali Humphrey, Evangeline MacKenzie, Chelsea Ngo,
Distinction: Janu Freysen, Aichen He, Khadija Khan
Year 5
Credit: Jan Fok, Virander Giran, Lachlan Ireland, Hunter Jaram, Liam Kapi, Bernadette Isabel Xin Xuan, Ian Kim, Saskia Knevitt, Imogen McCarthy, Patrick Newson, Wil Norris, Lara Purvis, Ryan Spiegel, Amelia Spresian, Yu-Heng Su, Amelia Witkowski
Distinction: Susan Ahn, Maurice Janz, Atharva Nalawadi
High Distinction: Joseph Zhu*
Year 6
Credit: Wai Qi Cheong, Nathan Clark, Emily Clish, Shion Hosaka, Jackson Kelly, Eugenie Kim, Grace Lang, Katie Lin, Mikayla Ngo, Tiago Rangel, Honora Rowen-Clarke, Tahani Sarwar, Jemima Slack-Smith, Micah Tatlow, Emily Wong
Distinction: Venice Cai, Yiming Chen, Conor Gerrard, Mitchell Heffernan, Pumindu Hetti Kankanange, Tobias Humphrey, Denzel Koo Sin Lin, Manoline Piyashe Ramesh, Jane Shi, Isaac Wang
High Distinction: Tony Xia
Year 8
High Distinction: Joseph Zhu*